Do you ever have those weeks when grocery shopping is the last thing you want to do, so you don't? And instead you look in your pantry, fridge, freezer and trash (just kidding) and scrounge around to make the most random meals with the most random ingredients? Yeah, this project is sorta like that. Only it's not edible.
Let me explain the connection in case my rambling isn't adding up. Our office is supposed to double as a guest room. Eventually. Both our families live in town and our good friends that used to visit from the windy city now live in Cincinnati (score!), so we don't have a lot of overnight guests. Which means, B.J. and I can't justify shoveling out money for a pullout sofa or a daybed at this point. However, we both wanted to add seating of some sort or another to our office. That's when I came across a DIY pallet reading bed on Pinterest.
I showed it to the husb and we both thought it was perfect, especially since we had a gigantic pile of pallets taking up precious real estate in the garage.
Here's our inspiration pallet bed, made from two pallets raised on casters, a foam pad, a down comforter, some comfy pillows and an old door headboard.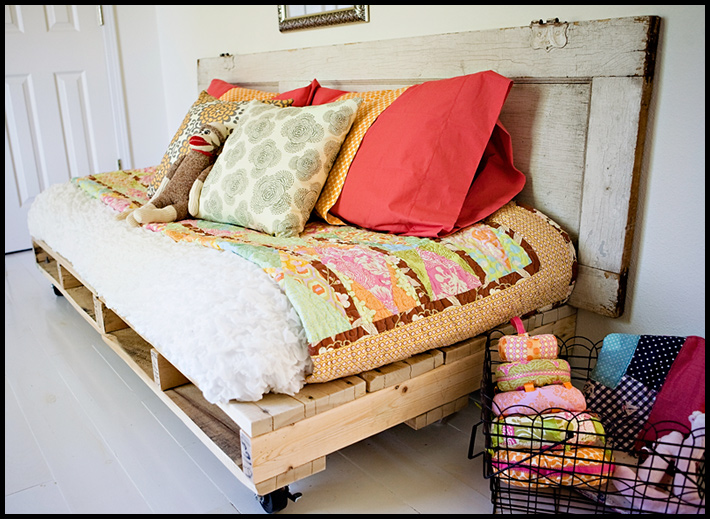 And here is what our DIY pallet daybed looks like, made from two pallets, a box spring, a foam mattress pad, a comforter, a quilt and some comfy pillows.
Obviously our daybed looks a bit different than our inspiration piece. We chose to turn our pallets the opposite direction and push the mattress all the way to one side, leaving a spot for a reading lamp and a basket of blankets. We also haven't put the bed up on casters. At this point it's a good height for Charley to get up and down independently.
When I said this project was like scrounging around your pantry to cook a meal with leftover ingredients, I meant it. That's exactly what I did to throw this reading bed together. The pallets were from our garage from the master bed project that never was, the box spring belongs to our king size mattress set but we're only using the top mattress, the polka dot shams match Charley's bedding but we chose not to use them in there, the other throw pillows came from my stash is the basement, the chartreuse quilt is mine from years and years and years ago, the wire basket holding blankets used to hold towels in the former guest room and the blankets we already owned, the rug is also from the former guest room, the white sheet is actually full-size from our old guest bed, and finally, the foot stool was a thrift store makeover months and months ago. See what I mean? This pallet bed was thrown together with anything and everything. The only thing I bought was the $19 lamp and a foam mattress pad. Clearly hoarding crap stuff in my basement pays off.
I should probably mention, too, that eventually we'll purchase a twin size top mattress to replace the box spring so this daybed could actually be a bed and not just a place to sit.
I have plans to add a headboard to this DIY daybed and I use that term very loosely. Mostly because I plan to make it out of placemats. Yeah, just go with it. That's what B.J. does.
Seeing as Baby Smallwood is due in three (THREE!!!) weeks and my energy level is not quite as high as my to-do list is long, I'm not sure when this placemat headboard project will actually occur. I'll keep ya posted.
Pin It