One of my goals this summer was to scope out some new thrift shops. A few weeks ago I stumbled upon a consignment shop (This and That in Mason, for all you local peeps), and it didn't disappoint. I was only in there for 15 minutes and I walked out with two wooden chairs, a small giraffe figurine, and a floor lamp. Oh, and I only spent $22. Yep, that's right.
I was actually searching for a floor lamp for the dine-in library so I was happy to find this one in the 75% off clearence corner. That brought the price down to a whopping $4.95. Sold. For that price I wasn't worried about its too-big lamp shade or the shiny brass finish.
After a few coats of Rustoleum's Pure Gold spray paint and a smaller lamp shade, it was looking so much less '80's and a lot more like my inspiration lamp from Restoration Hardware. The gold finish is much more subtle than the original brass shine and the new white shade shows off the swing arm, which I love.
Here's the lamp that inspired me at Restoration Hardware (for $275 by the way)...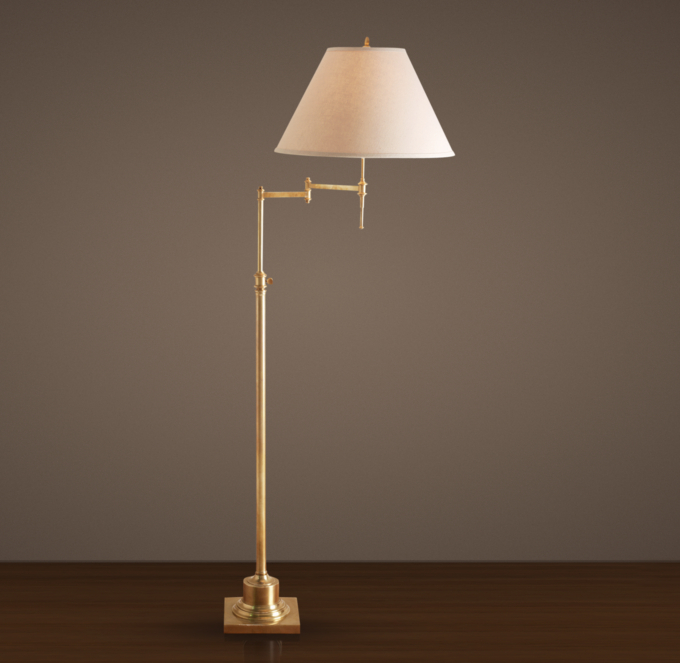 And here's my thrift shop find with a little TLC...
Of course it's not an exact replica, but for $4.95 plus the cost of a new lamp shade (approximately 15 bucks at Target), it'll do juuuust fine. So how about you? Any thrifting lately? 
Pin It